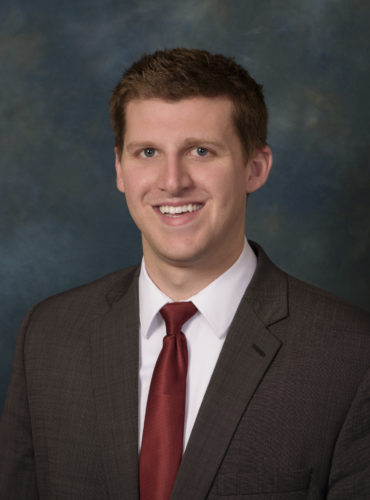 Tyler grew up in Sioux Falls, South Dakota.  In 2012, he received his Bachelor of Arts degree from the University of Minnesota.  After obtaining his degree, Tyler returned to South Dakota to attend law school at the University of South Dakota.  He graduated from law school in 2016 with High Honors.
While in law school, Tyler served as the Production Editor of the South Dakota Law Review, competed in trial team competitions across the country, and was graduate assistant to Dean of the Law School, Thomas Geu.
After law school, Tyler was selected as a law clerk for the Second Judicial Circuit in Sioux Falls, South Dakota.  As a law clerk, Tyler researched and reviewed hundreds of briefs and motions and drafted opinions on complex criminal and civil law cases.
Tyler is also on the Board of Directors for a local family counseling agency in Sioux Falls, and is a Board Member and the Law School Committee Chair for the South Dakota Defense Lawyers Association.
Tyler enjoys exploring and writing about historical changes in South Dakota law.  His articles discussing fundamental rights and workers' compensation rights in South Dakota have been published in the South Dakota Law Review.  Outside of work, Tyler enjoys playing basketball, reading, watching sports, and spending time with his family.
Practice Areas
Civil Litigation
Professional Experience
Evans Haigh & Arndt LLP
Partner January 2022 — Present
Evans Haigh & Hinton LLP
Associate 2017 — December 2021
Law Clerk 
Second Judicial Circuit, South Dakota 2016 — 2017
Education
University of  Minnesota
(B.S., Political Science, 2012)
University of South Dakota
(J.D., With High Honors, 2016)
Licensure
Admitted to Practice (State)
South Dakota, 2016
Admitted to Practice (Federal)
United States District Court, District of South Dakota, 2016
Professional Honors and Memberships
American Bar Association, 2016 – Present
South Dakota Bar Association, 2016 – Present